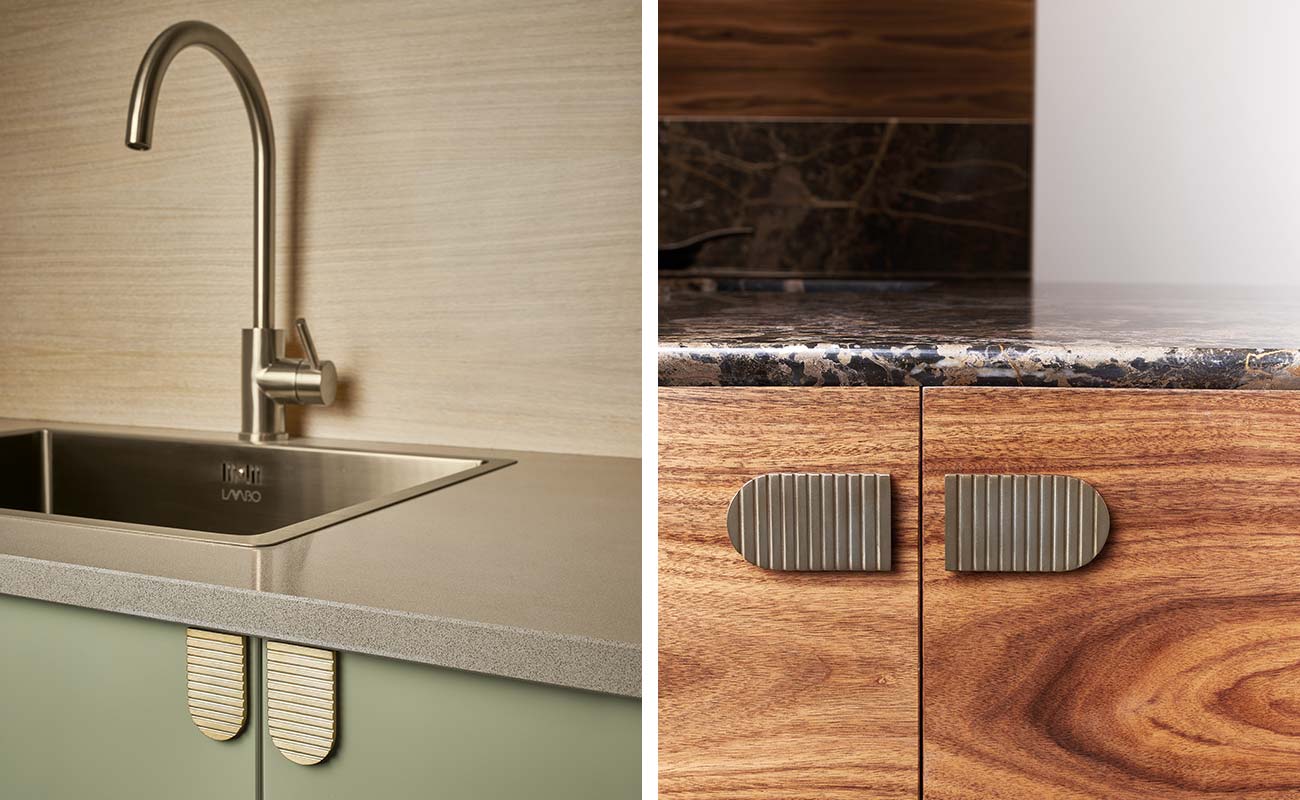 Together with the Danish design studio Steffensen & Würtz, Furnipart has developed a design that many of us did not even realize we needed. The push tray Habit is an ingenious solution to a well-known problem in the many homes that today have handleless cabinets and drawers in their kitchens. Small in size, but large in quality and design. With its ribbed surface, Habit acts as a visual identification that shows where the user should press to open the drawer or cabinet. The handle creates a completely new habit, hence the name Habit.

Habit eliminates the problem of sticky fingerprints
Habit solves two well-known problems in handleless kitchens and is the answer to many kitchen designers' wishes. 

- We have all experienced the problem of being a guest in someone else's home and the stress of trying to find out how we open drawers or cabinets in their handleless kitchen. We have tried to eliminate this problem with Habit, says Pia Würtz Mogensen, designer at Steffensen & Würtz.

Habit also puts an end to the problem of dirty and sticky fingerprints that are often left on doors or cabinets in handleless kitchens. For many years, fronts with a high-gloss surface have been popular - a surface that is beautiful but also extra susceptible to dirt and smudges. The same problem exists with the colored fronts that today are becoming more and more trendy - there are easily stains after our fingerprints when you open the door or cabinet. This is a frustration that most kitchen owners share, but now the frustration is over - Push tray Habit is the solution. 





Beslag Design and Furnipart
Furnipart is a danish company that focuses on developing and designing modern fittings. Beslag Design has for several years worked closely with Furnipart. Together, they develop an innovative and attractive range that has something for all tastes.

Furnipart works with external designers from all over the world and all collections that are produced are something unique. The push pad Habit is designed together with the Danish design studio Steffensen & Würtz. Since 2015, Thomas Steffensen and Pia Würtz have created design products in their studio in Ålborg, Denmark, based on the belief that design is about creating useful products that make people's everyday lives easier. 

- We create a simple and functional design that does not require our complete attention, only at the moment when the design is used. This reduces everyday stress in a world where we are constantly bombarded by impressions, explains Pia Würtz Mogensen, designer at Steffensen & Würtz.